Event Details
Date
January 18, 2018
Time
9:00 AM - 4:00 PM
Location
Saratoga Hilton & Gardening Conference
Broadway 1 and Pleasant Valley Farm
Saratoga Springs, NY
Host
Growing, Washing and Packing High Tunnel Winter Greens: Doing It and Doing It Well
January 18, 2018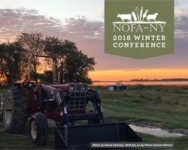 NOFA-NY 2018 Winter Conference: Pre-Conference Event
This event promises to help growers bring their winter greens production to the next level -- both in the high tunnel and in the packshed. There will be an emphasis on best management practices in the high tunnel, especially practices which support long term soil health and fertility. In the packshed, processing efficiency and food safety will both be stressed.
The day will begin at 9:00 am in conference room Broadway 1, with workshops on issues and opportunities in winter high tunnel production and best practices for postharvest handling, including food safety concerns.
Upon completion of the workshops at 10:30 am, everyone will board a bus and travel to Paul and Sandy Arnold's Pleasant Valley Farm in Argyle, NY for a farm tour and farmer-led discussions in the high tunnel and packshed. A farm to table lunch, with a vegetarian option, will be served at the farm. After lunch, the tours and discussions will continue and then everyone will come together for a Q&A session with hot cider and light snacks. The bus will leave the farm at about 3:15 pm and should be back at the hotel by 4:00 pm.
Presenters: Chris Callahan, Robert Hadad and Judson Reid
Hosts: Paul, Sandy & Kim Arnold, Pleasant Valley Farm
You must be pre-registered to attend this event.
Visit NOFA-NY's Winter Conference website
for more information and to register.
Upcoming Events
Fluid Milk Processing for Quality and Safety (Online Course)
July 1 - December 31, 2018

This online workshop (with rolling registration) is designed for those involved and interested in fluid milk processing and testing with the intent of providing the tools to support and improve on quality assurance/control and food safety programs for bottled milks. While the course design assumes participants have some prior knowledge of dairy microbiology & processing (e.g., Dairy Science & Sanitation Course), critical concepts will be reviewed and expanded on for those who do not. This course can be taken as a stand-along program, but it also fulfills the core training requirement of a Cornell Dairy Foods Certificate for Fluid Milk Processing for Quality and Safety after all required prerequisite courses have been taken (e.g., Dairy Science & Sanitation, HACCP, HTST).

The Science of Cheese Making (Basic Level) and Vat Pasteurization Workshop
October 23 - October 24, 2018

Ithaca, NY
This workshop is designed for cheese manufacturers or others interested in the basic concepts of cheese making and is a required part of the Dairy Extension Basic Cheese Making Certificate Program. The course may also be taken as a stand-alone Basic Cheese Making training. The course begins with an online lecture component covering the key areas related to vat pasteurization and basic cheese making techniques, cheese culture basics, milk defects, cheese defects and cheese marketing. The course will also include 2 days of hands-on pasteurization and cheese making activities.

2018 Cornell Agribusiness Strategic Marketing Confernece
November 7 - November 8, 2018

Lake Placid, NY
Developing Your Brand and Marketing Strategies to Increase Sales
This program will focus on brand development for a competitive market, collaborative approaches to marketing, multi-channel selling strategies, and technology adaption with your brand.

All members of the agricultural community are encouraged to attend!

Announcements
Take the New York Berry Grower Survey!
Attention New York State berry growers
Help us better understand the current status and future growth potential of New York's berry industry, as well as identify the best approaches to support and develop resources to help berry growers.
This survey, a collaborative effort between the New York Berry Growers Association and Cornell Cooperative Extension, will provide critical information needed to obtain additional funding from the State for research and extension efforts.
The survey contains 8 questions and should take less than 5 minutes to complete it.
Take the survey online
or you can
print the survey and mail it in using this PDF
.