Event Details
Date
August 4, 2017
Time
10:00 AM - 4:00 PM
Location
Meet at New York Craft Malt
8164 Bank Street Rd
Batavia, NY 14020
Cost
$20.00 includes lunch and transportation


Host
Harvest New York
Cheryl Thayer
607-592-9507
email Cheryl Thayer
Pre-Registration Deadline: August 4, 2017

EVENT HAS PASSED
Field to Pint Craft Brewery Tour - Western NY
August 4, 2017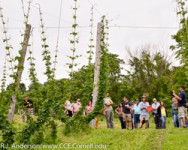 You asked for more New York craft brewery networking opportunities and Harvest NY listened! We're excited to host our second New York Field to Pint Craft Brewery Tour, which will follow the life-cycle of a pint of locally brewed beer. Visit fields of malting barley right before harvest, witness craft malt houses in action, see hop bines reaching for the sky, and savor the local flavors brewed by our friendly farm breweries. Come prepared to learn about each integral member of the New York craft brewery supply chain, as well as network with new friends.
We will meet at New York Craft Malt (8164 Bank Street Rd, Batavia, NY 14020) and visit the following stops: Cornell malting barley fields, New York Craft Malt, Dublin Corners hop yard and Farm Brewery. Lunch will also be provided.
Special guests include: Steve Miller, CCE Hop Specialist; Mike Stanyard, CCE Field Crop Specialist, Aaron MacLeod, Director, Hartwick College Center for Craft Food and Beverage, and Gary Bergstrom, CU Professor- Plant Pathology and Plant-Microbe Biology
As buyers of NYS grain, we invite and encourage Distillers to join us!
These tours are funded through the gracious support of the NY Farm Viability Institute.
Field to Pint Tour Flyer (PDF; 1036KB)
Upcoming Events
Grrls Meat Camp -- Cut & Cook: PIG Workshop
October 18 - October 19, 2017
9:30 AM - 5:00 PM
Ithaca, NY
Let's come together in small groups build a strong circle of like-spirited grrls, while sharpening our butchery, cooking, and business skills. Come have fun and earn your badges!

Considering Small-Scale Commercial Value-Added Dairy Production
October 26, 2017
10:00 AM - 2:00 PM
Penn Yann, NY
This training will introduce the ins and outs of small-scale cheese, yogurt and other value-added dairy production. Topics include: How to get started, funding - grant and loan opportunities, examples of value-added businesses, and deciding whether it's right for you.

Small-Scale Charcuterie Workshop
November 6, 2017
9:00 AM - 4:00 PM
Ithaca, NY
This one day workshop is geared towards home owners, or anyone who loves meat and wants to learn how to make sausages, Pate de Campagne, Spuma, and Rillettes. Participants will learn what breeds, and cuts of meats can and should be used in the charcuterie process, as well as how to create different blends with flavors and spices.

Announcements
Growing for Wholesale Guidelines Available
Grading and packing guidelines are now available for 16 commonly grown specialty crops in NYS: broccoli crowns, Brussels sprouts, corn, green peppers, cucumbers, green cabbage, red cabbage, savory cabbage, cauliflower, eggplant, green beans, jalapenos, poblanos, Hungarian hot peppers, summer squash, and zucchini.
Acceptable quality standards and common defects that should be sorted out on the grading line are depicted in these resources, both visually and in outline form. Find all of the
grading sheets here
.
Western NY Food Hub looking for produce farmers!
Eden Valley Growers (EVG) is opening their doors to new produce growers interested in selling through wholesale market channels! Dubbed the Western NY Food Hub, this business diversification will provide qualified growers with immediate access to wholesale markets. Based in Erie County, EVG is a vegetable growing farm cooperative that recently celebrated its 50th anniversary. Recognizing the increasing demand for locally grown food and the considerable assets the cooperative has, both in terms of infrastructure, sales and marketing, they are eager to provide Western NY farmers with a viable market for their produce. Click
HERE
to see more information.