Event Details
Date
May 17, 2017
Time
6:30 PM - 9:00 PM
Location
Dard Hunter Hall on the Roycroft Campus
21 South Grove St
East Aurora, NY 14052
Cost
$10.00

Host
CCE Erie County and Harvest NY
Carl Moody
email Carl Moody
Artisan Cheeses of Western New York
May 17, 2017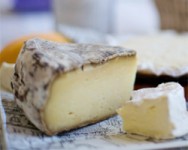 Cornell Cooperative Extension of Erie County and Harvest New York present
Artisan Cheeses of Western New York
. Western New York is producing some of the most interesting and most thoughtfully created artisan cheeses in the state. Cornell Cooperative Extension Dairy Processing Specialist (and Harvest NY team member) Carl Moody will give an overview of the cheese-making process and share what artisan cheesemakers are doing in the region as well as samples of some of their best work.
The cost of this workshop is $10.00.
Registration and additional workshop information can be found on the
CCE Erie website
or by contacting CCE at 716-652-5400 x176 or
email Eva McKendr
y. Class size is limited to 20 people, so please register early.
Upcoming Events
FSPCA Preventive Controls for Animal Food
November 7 - November 9, 2017
8:00 AM each day
Ithaca, NY
The Current Good Manufacturing Practice, Hazard Analysis, and Risk-based Preventive Controls for Animal Food regulation (also referred to as FSMA Preventive Controls for Animal Food regulation) is intended to ensure safe manufacturing, processing, packing and holding of food products for animal consumption in the United States.

This course, developed by FSPCA, is the standardized curriculum recognized by FDA; successfully completing this course is one way to meet the requirements for a preventive controls qualified individual.

Announcements
Western NY Food Hub looking for produce farmers!
Eden Valley Growers (EVG) is opening their doors to new produce growers interested in selling through wholesale market channels! Dubbed the Western NY Food Hub, this business diversification will provide qualified growers with immediate access to wholesale markets. Based in Erie County, EVG is a vegetable growing farm cooperative that recently celebrated its 50th anniversary. Recognizing the increasing demand for locally grown food and the considerable assets the cooperative has, both in terms of infrastructure, sales and marketing, they are eager to provide Western NY farmers with a viable market for their produce. Click
HERE
to see more information.