Event Details
Date
May 17, 2017
Time
6:30 PM - 9:00 PM
Location
Dard Hunter Hall on the Roycroft Campus
21 South Grove St
East Aurora, NY 14052
Cost
$10.00

Host
CCE Erie County and Harvest NY
Carl Moody
email Carl Moody
Artisan Cheeses of Western New York
May 17, 2017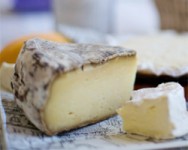 Cornell Cooperative Extension of Erie County and Harvest New York present
Artisan Cheeses of Western New York
. Western New York is producing some of the most interesting and most thoughtfully created artisan cheeses in the state. Cornell Cooperative Extension Dairy Processing Specialist (and Harvest NY team member) Carl Moody will give an overview of the cheese-making process and share what artisan cheesemakers are doing in the region as well as samples of some of their best work.
The cost of this workshop is $10.00.
Registration and additional workshop information can be found on the
CCE Erie website
or by contacting CCE at 716-652-5400 x176 or
email Eva McKendr
y. Class size is limited to 20 people, so please register early.
Upcoming Events
Cured Meats Workshop
May 31 - June 1, 2017

Ithaca, NY
The Cured Meats Workshop is tailored to small-scale meat processors and restaurant owners interested in creating a value-added meat product for their customers.

Announcements
Job Posting: Urban Agriculture Specialist
Harvest NY is hiring an Urban Agriculture Specialist. The Urban Agriculture Educator is responsible for planning, organizing, developing, implementing, and evaluating Extension educational programs for New York City commercial urban agriculture farmers. Specifically, this position will provide leadership and delivery of educational programming related to urban agriculture including production, harvesting, packaging, marketing, food safety, and other sustainability issues. Urban farm types include those producing in soil, greenhouses or vertical /enclosed facilities. The Educator will work closely with Cornell faculty, Regional Agriculture Teams and NYC Cornell Cooperative Extension to support research and extension on urban agriculture development and entrepreneurship. The Educator will also facilitate partnerships with local and state agencies, elected officials, communities, landowners, residents, industry and environmental groups in developing economic urban farming opportunities while protecting, as well as advocating for a science-based and responsible approach to managing natural resources.
To access the full job description or to apply, please click here.


Western NY Food Hub looking for produce farmers!
Eden Valley Growers (EVG) is opening their doors to new produce growers interested in selling through wholesale market channels! Dubbed the Western NY Food Hub, this business diversification will provide qualified growers with immediate access to wholesale markets. Based in Erie County, EVG is a vegetable growing farm cooperative that recently celebrated its 50th anniversary. Recognizing the increasing demand for locally grown food and the considerable assets the cooperative has, both in terms of infrastructure, sales and marketing, they are eager to provide Western NY farmers with a viable market for their produce. Click HERE to see more information.